As we approach another busy bank holiday weekend and with 10 motorcyclists lives lost already this year, road Safety professionals and the widow of a motorcyclist killed in a road collision launch a campaign for road safety by conveying the following message to all road users- lookout for all road users- Check your mirrors -look twice at junctions.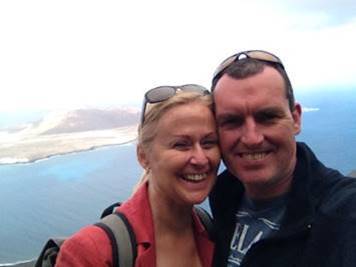 The widow of a motorcyclist killed when he was hit by a Car has spoken for the first time about her loss. Motorcyclist Michael Sweeney, was fatally injured when his Yamaha motorbike was involved in a collision with a car on the N24 between Clonmel and Carrick on Suir at around 6.15pm in 2018.
Mick's widow, Jules Sweeney, has now joined road safety professionals in urging motorists to be aware of motorcyclists on the roads.
Jules Sweeney , the widow of Motorcyclist Michael Sweeney, aged 47, tells the story of how the dreadful day unfolded
On the 1st September 2018 Mick was riding home from the UK (he had just spent a week there sitting exams for his next ticket of advancement as a Marine Engineer) he had not long got off the ferry. He was overtaking and the driver of that vehicle chose to pull out and overtake the vehicle in front of her as Mick was passing her.  She hit his bike sending it into a cement wall and flying into a field. Mick was flung into the air and landed in the middle of the road.
Motorists travelling behind witnessed it all. They stayed with Mick in the middle of the road until medical help arrived.  Micks injuries were so severe that he died at the crash site.  He never made it home to me that night. The Guards, fire brigade officers, paramedics, doctor, civilians, and a priest (who was called to administer last rights) where all there had to witness this – an image that will never leave their minds.
Mick was never late and if something was to have held him up, he would have contacted me.  I was home cooking his dinner (all his favourite foods) as he was due to head back overseas for work two days later. The time came and passed without a word. I tried calling but there was no reply (Mick always had his phone on flight mode when riding).  Eventually I turned everything off and sat and waited – I knew something was wrong. This was confirmed when a Garda vehicle pulled up outside the kitchen window.
What followed next was me having to ring and tell his two brothers, having to get someone to drive me from Limerick to Clonmel so I could identify his body (stupidly I thought I could bring him home that night). Then the telling family and friends, ringing the undertaker and having to choose a coffin, pick out clothes for him to wear, talk to him and touch his cold hands while he lay lifeless in our home.  Arranging a priest, music for the church and flowers for the grave.  We waked him, we buried him and now we grieve for him.
He was only 47!  We had just celebrated our 13th wedding anniversary.  Our future was looking so bright, we had hopes, plans, and dreams. In the space of one careless moment Micks life and our future together was taken.
I figured way back in the early days that there must be something good to come out of this horrible waste of an incredible man's life. I don't want anyone to have to endure one day of this, something that could have been avoided by not being careless, by paying attention and being respectful to other road users.
Mick was such an experienced and careful rider and would never take unnecessary risks. You never think something like this will happen to your family.
"It is difficult not to feel that his death could have been avoided. It is crucial that drivers pay attention at all times and I feel I should do everything I can to let drivers know how important it is that they think about motorbikes.  I wouldn't wish any other family to have to go through what we have since Mick's death."
What I would like to get from this is to create awareness for all motor bike users on our roads and increase the level of safety measures people set when getting into their vehicles.
Remind people they are driving a potential lethal weapon
Use all three of your mirrors – cars are fitted with them for a reason
Avoid all distractions and focus on driving (phones, talking hands free- it's a distraction,  radio, lighting cigarettes etc)
Leave sufficient time to get to your destination
Be always aware of your surroundings
The consequences of an accident are fair reaching and lives are irreparably changed forever for so many – not just the immediate family
The motorists involved in the fatal collision received a 5 year driving ban and 240 hours community service but no sentence will ease the pain of the loss of a love one but it may remind drivers there are consequences to careless driving.
Road safety officer Noel Gibbons Mayo County Council who is coordinating the campaign said "The last couple of years have been an incredibly difficult time for Mick's family as they have tried to come to terms with his death which occurred in such unexpected and terrible circumstances.
Through our work we often see the consequences of what can happen when vulnerable road users, such as motorcyclists, are in collisions.
While nothing can make up for the loss of Mick, Jules and the rest of his family hope that his death can act as a warning to motorists of the devastation they can cause families through a lapse in concentration. It is vital drivers pay attention and show consideration to fellow road users at all times.
Mick Sweeney was a skilled motorcyclist who undertaken advanced motorcycle training with ROSPA and was generous with his time , he was about to join his friends as a member of the Blood bikes Ireland (bikers who provide emergency medical transport between hospitals)