Applied Driving has launched a global competition to encourage and reward safe driving behaviour in support of Brake's annual Road Safety Week campaign. The Driver Safety Challenge is open to all fleet drivers and motorists, with cash and other great prizes available for the top driving performances during the month of November.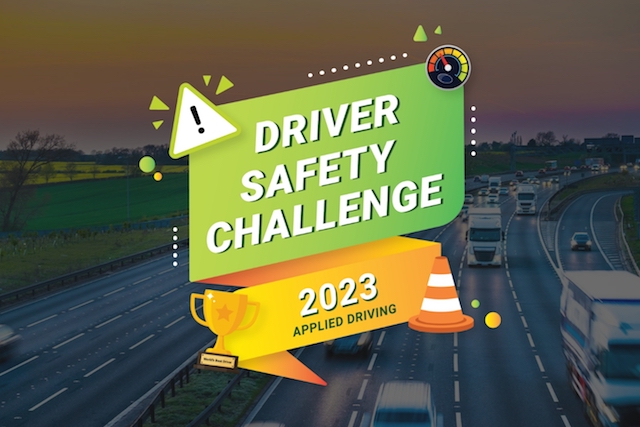 "Our aim is to encourage, educate and incentivise drivers to improve their safe driving behaviour by getting them to take-part in our month-long challenge," explains Andy Phillips, Global Managing Partner at Applied Driving. "To take part, all they need to do is sign-up through our website and download our Companion+ Mobile Safety app, which will be free of charge for the duration of the event. This will allow us to monitor their driving performance, so we can identify and crown our winners."
Any driver in the UK or internationally can take part and go head-to-head against other participants, including Applied Driving's Head of Training & Education, Orlando Collesso. The Companion+ Mobile Safety app will assess at-risk driving events and send Triggered TrainingTM in the form of a safety message, videos or e-learning modules tailored specifically to drivers' needs. Drivers will also receive weekly updates via email about their performance and current ranking position in a global driver league table, with further updates via social media channels.
"We wanted to create a competition that would show how effective driver engagement can encourage safer driving behaviours. This is a great opportunity for fleets to try out our solution at no cost, which has been shown to reduce at-risk driving events by as much as 96%. Those organisations who choose to continue with Companion+ after the campaign can benefit from a promotional discount as part of their participation. We believe that together we can achieve more, so we are also inviting our partners to get involved with our Road Safety Month Campaign and to take advantage of all the initiatives we are running and the complimentary resources," adds Phillips. 
The Driver Safety Challenge is part of Applied Driving's annual Road Safety Month, which has been launched this year to coincide with Brake's Road Safety Week 2023. Throughout November, the company will be running a series of driver safety workshops and webinars, as well as providing complimentary access to a wide range of resources. Organisations will also be able to take advantage of free access to Applied Driving's e-learning module library and download road safety bulletins.
To sign-up to the Driver Safety Challenge, personally or on behalf of your fleet drivers, as well as view all the latest updates on Road Safety Month, visit here.