Moto Rugby services on the M6 has been rated the best motorway services for the second year running in a user survey by the independent transport watchdog.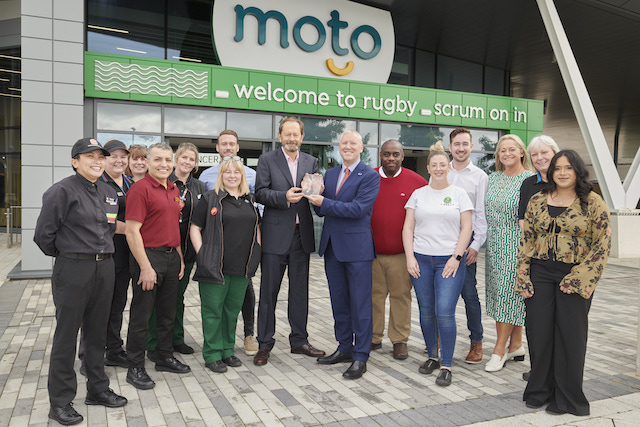 Transport Focus spoke to more than 30,000 visitors at 120 motorway services in Great Britain about their views on the toilets, customer service, value of the food and drink and electric vehicle charging facilities.
In the sixth year of the survey, motorway services have performed well with 94 per cent of visitors satisfied with their visit, up from 93 per cent in 2022.
Moto's Rugby in Warwickshire was awarded the best rated motorway services with 100 per cent of visitors satisfied. As the newest site in the country, Rugby was rated highly for its food and drink, toilets and friendly staff.
Welcome Break's Hartshead Moor East on the M62 is lowest rated for overall satisfaction (84 per cent) and visitors are least likely to recommend it to a friend. Work to refurbish the toilets at Hartshead Moor East was underway during the survey period and portable toilets were in place.
In Scotland Roadchef's Annandale Water is the highest rated services (99 per cent) and Welcome Break Sarn Park is the highest rated in Wales (96 per cent).
Anthony Smith, chief executive of the independent watchdog Transport Focus, said:
"Our survey shows motorway services offer a great experience with friendly and helpful staff and provide drivers with the opportunity to rest, relax and take a break before continuing their journey.
"But there is still room for improvement, including making sure the range of food and drink on offer is good value for money for visitors as cost of living increases continue to bite."
Key findings
92 per cent of visitors were satisfied with the toilets (up from 88 per cent in 2022).

More than nine in 10 visitors said staff at the services were helpful and friendly.

Value for money continues to be an area for improvement – nearly two thirds (64 per cent) of visitors thought the food or drink available to eat in the services was value for money and six in ten (57 per cent) thought the takeaway food was good value for money.

Stopping at services has a positive impact on drivers' mood and provides an opportunity to rest, relax and take a break. Three in ten visitors (30 per cent) arrived at services saying they feel tired, stressed or frustrated. This went down to five per cent feeling tired, stressed or frustrated after stopping at the services. after stopping at the services.

EV users were the least satisfied overall at 89 per cent, followed by HGV drivers at 90 per cent.

Around two thirds of disabled users said that services catered well for their impairment, which leaves room for improvement by operators.

The cost of living crisis continues to affect road users. Four in ten said they are cutting back on day-to-day spending, with 27 per cent of users saying they are going to fewer places, 15 per cent are using their vehicle less and 22 per cent going on holiday less.
Across the country investment by operators is continuing to make a real difference for road users. Birchanger Green (Welcome Break) has seen the biggest increase in overall satisfaction, up from 83 per cent in 2022 to 96 per cent in 2023.
Transport Focus uses the survey to make the case for improvements and help operators focus on the things that matter most to visitors. When Transport Focus started measuring motorway service visitor satisfaction in 2017, the lowest overall satisfaction score at any site was 62 per cent. In 2023 the lowest site score was 84 per cent.
The survey data shows that visitors have noticed these improvements and the investment by motorway service operators over the last seven years since we started the survey. In 2017 six out of ten motorway services scored 90 per cent or more for overall visitor satisfaction, in 2023 more than 90 per cent of services have this high level of satisfaction.