The scourge of drug driving is on the rise as An Garda Síochána's twitter account shows countless reports of drug driving in the month of June.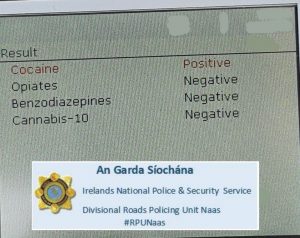 At a cursory glance DMR Roads Policing stopped a vehicle recently and found that its tax had expired for more than a year. The driver was a learner who was driving unaccompanied with no L plates and subsequently tested positive for the consumption of cannabis.   
At a Dublin Castle Roads Policing checkpoint, a driver was arrested after testing positive for the consumption of cocaine, cannabis and benzodiazepines.   
Meanwhile, at a Mandatory Intoxicant Testing (MIT) checkpoint in north Kildare, Naas Roads Policing Unit (NRPU) arrested a driver for Drug Driving following a positive roadside test for cocaine.  
Gurranabraher Gardaí arrested a driver after they tested positive for the consumption of cocaine and cannabis.  
Cahir Gardaí arrested two motorists for drug driving. One tested positive for cocaine and the other tested positive for cannabis and even attempted to evade Gardaí.  
NRPU were particularly active this month and found one motorist driving under the influence of alcohol and another under the influence of cocaine. 
Another NRPU proactive patrol detected a motorist driving whilst holding a mobile phone who subsequently failed a Roadside Drugs Test for cocaine and was arrested and a Fixed Penalty Notice was issued. 
For more examples of drug driving on the country's roads, check out An Garda Síochána's twitter feed: https://twitter.com/gardatraffic