With over 100,000 people stuck in Ireland's driving test backlog, actually getting to sit your test is like striking gold. Despite many drivers having extra time to practice due to the backlog, it has been shown that a lot of motorists fall at the last hurdle due to some common mistakes…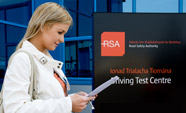 According to the Road Safety Authority (RSA) the majority of people who fail their driving tests do so because of some simple mistakes. The RSA have kindly compiled a list of the most common mistakes in the driving test. Some of these mistakes are as follows: 
Failure to anticipate the actions of other drivers

 

Incorrect road position on the straight, on bends, turning left, turning right, at roundabouts, and when overtaking

 

Incorrect or inadequate use of mirrors and signals

 

Excessive speed for the road or traffic conditions

 

Failure to yield the right of way to others

 
(Visit rsa.ie for more tips)
Leading car news website, CompleteCar.ie, are also doing their best to help learner drivers and have written a checklist for people looking to achieve their full licence. 
Assuming that you've passed your theory test, you'll be looking to get your learner's permit; once you've passed your theory test you have 2 years to apply for a learner's permit, so don't waste any time in doing so.
It goes without saying that you need L plates when learning to drive. You need to add them to any private vehicle that you plan on practicing in. And always remember, you could earn penalty points for not displaying L plates. 
The RSA recommends nominating a Sponsor that will help you to learn how to drive outside of any ADI-assisted instruction. It needs to be somebody who has passed their test and has held a driving licence for at least two years. You don't necessarily need a sponsor but, if you drive unaccompanied, you could face a fine of up to €1,000. 
If you fail your test, the best way to get through next time is to study the Rules of the Road and the Learner Driver suite of manuals and get as much practice as possible in all types of traffic situations.
Click here to view the full article on CompleteCar.ie